My mom always says that most of life is lived on "plan B". That's especially true while traveling — which is how Syd found herself hitching a ride up a big hill on the back of a stranger's motorcycle.
The adventure started the afternoon we arrived in Sapa, a small town to the North, nestled in the Tonkinese Alps close to the border with China. There are 7 different hill tribes living there, all still wearing their traditional, hand-embroidered clothing and practicing the same terraced rice farming techniques of their ancestors. Their villages dot the sculpted sides of the steep mountain valleys joined together by sidewalk-wide concrete "roads". It was there that we planned to bike.
We were assured repeatedly that it was all downhill but knowing that we love interacting with villagers, our guide, Tuan, decided on an alternate route that would get us off the main road and into the countryside… a "plan B" you might say. After a long downhill ride into a deep ravine, we were met with the steepest uphill imaginable. Only Josh, who mountain bikes, was able to bike up it (which impressed the locals he passed along the way!) The rest of us non-bikers resorted to pushing. Fifteen minutes in, Syd was exhausted. Motorcycle after motorcycle zipped by us. Up ahead, Tuan finally flagged one down, offered the guy $2 to turn around, go grab Syd and drive her up the hill. And that's how she got her first motorcycle ride (without a helmet). You would think I would be horrified, but all I felt was relief.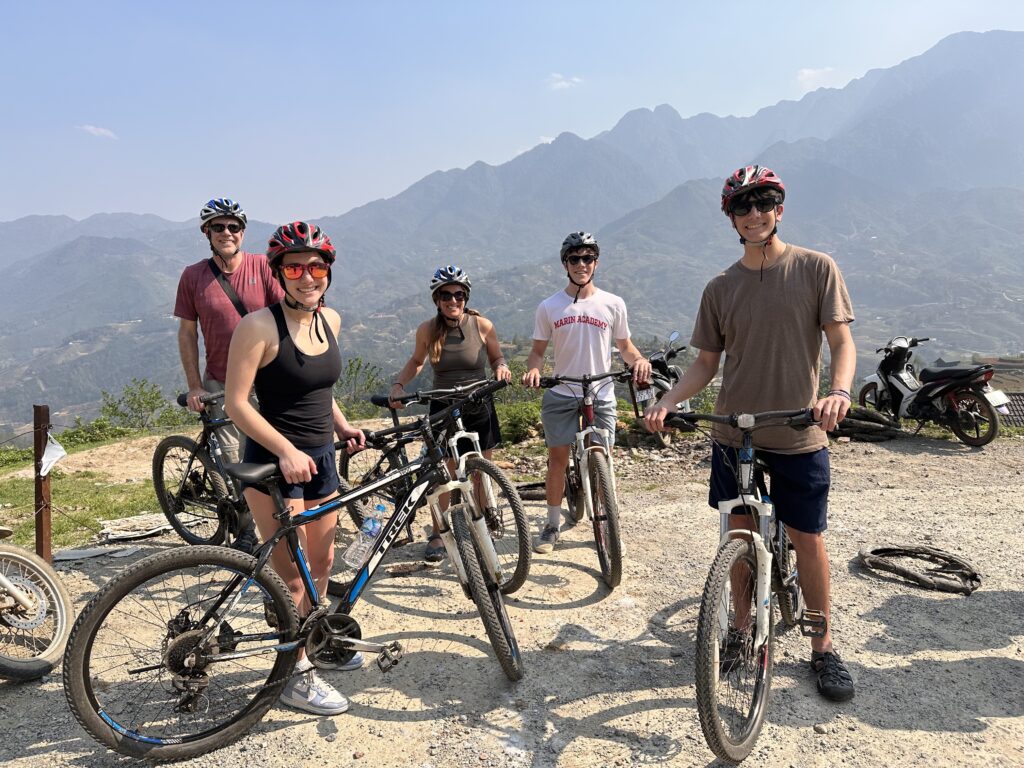 At the top of the hill was the first of several villages… So as we biked, we passed school kids, simple homes, some local shops, and many hill tribe women starting their walk home after selling goods in town. Overall, a very memorable afternoon.
Plan B arrived again the next morning when the Hmong guide we arranged for trekking and a "home stay" (where we would overnight in a local Hmong family's home) canceled. A new guide was found for us but now, instead of being close to Sapa, we would have to go an hour away to start our trek.
The huge silver lining? We absolutely adored our guide, My (pronounced "Mee"), and headed out to an area just now opening up to Westerners. In fact, we didn't see another tourist for the entirety of the two days we were there!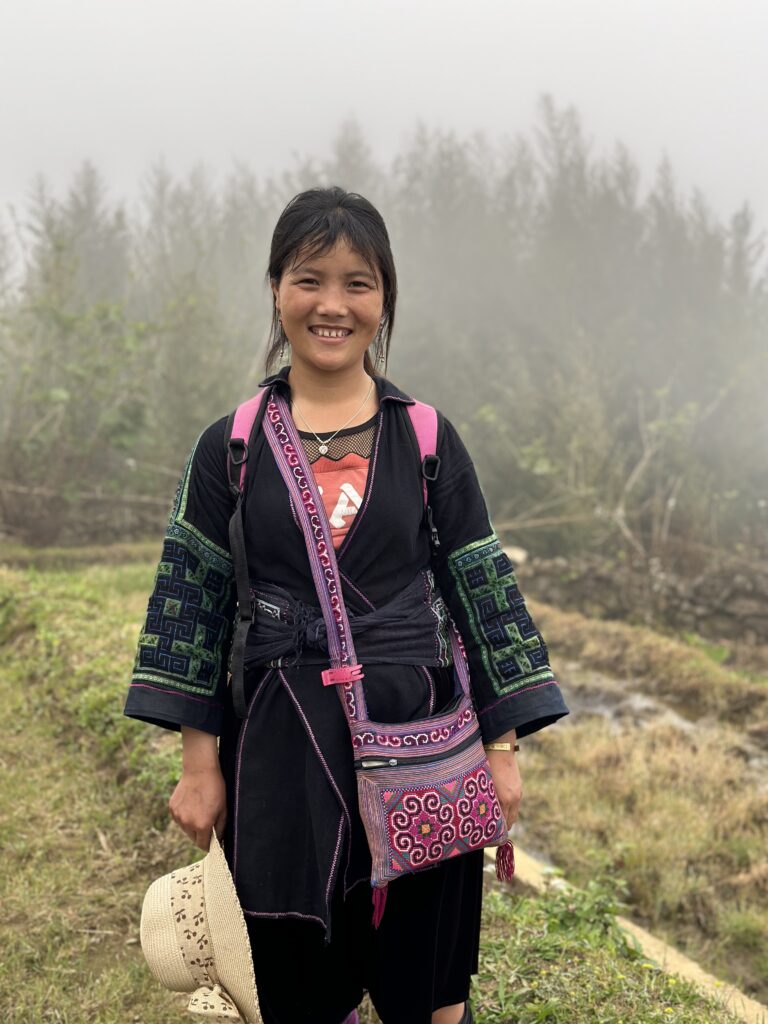 We trekked 6 miles across the rice terraces and through bamboo forests. My showed us the indigo plant used to dye Hmong clothing and tricked us into smushing it in our hands. Soon our palms and fingers turned bright green that darkened into deep purple as the day progressed… and only then told Syd and me that it takes 3 days to fade away! The joke was definitely on us!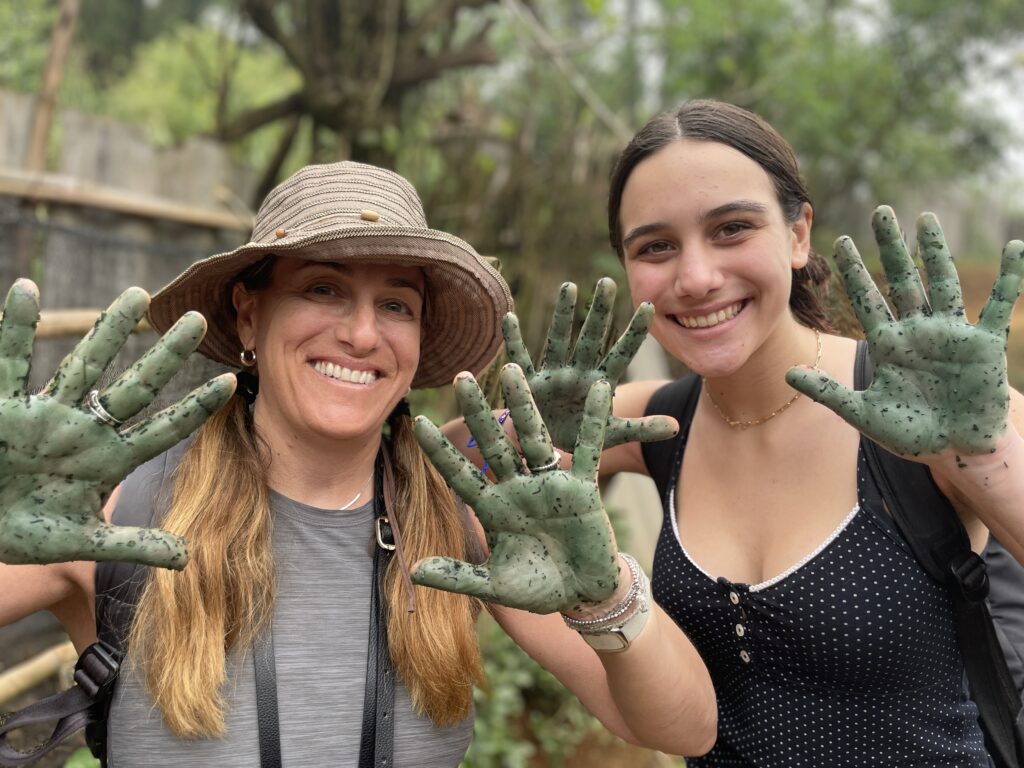 Lunch was at a local villager's house, a simple structure with a single lightbulb and fire pit for cooking. Kids were everywhere playing in ways that would make an American mom's heart race. At one point I felt like the Pied Piper with 7 giggling kids following us for a good 20 minutes through the village. It's amazing what you can communicate with hand signals, a big smile, and the two English words they all knew: "goodbye!!!" and "foreigner!" Cue the giggles.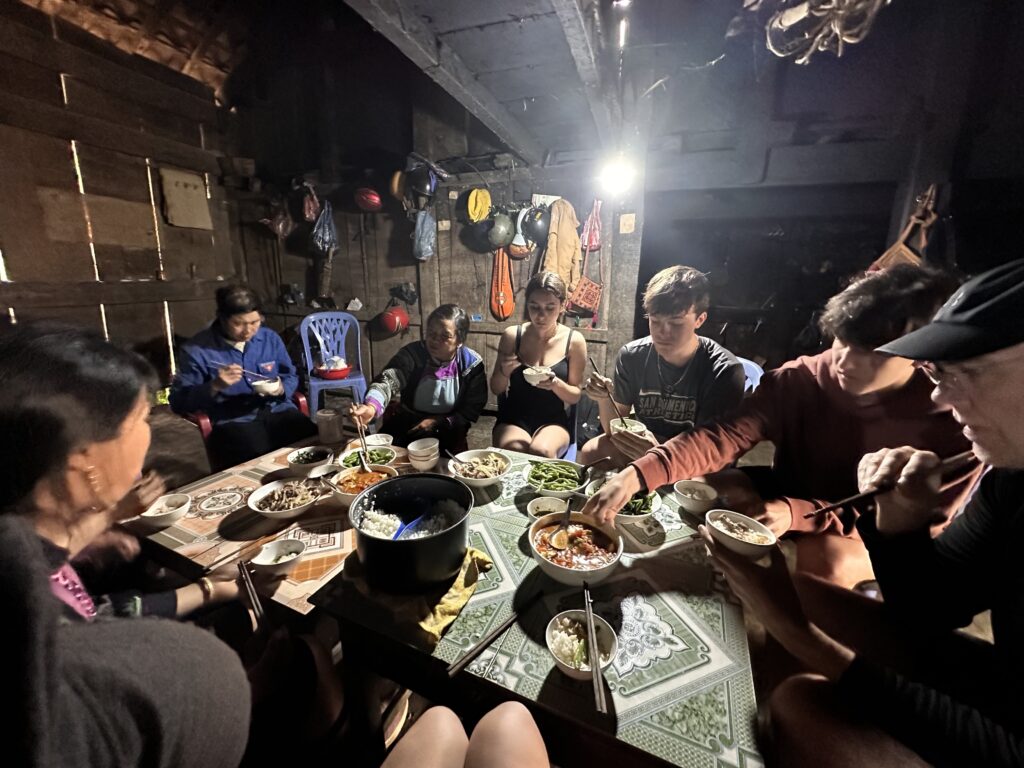 You might be wondering what it's like to do a homestay. It's definitely awkward at first. You are in a stranger's home, you don't speak their language, and there are often customs to be mindful of. But I've found that each time, the awkwardness wears off and is soon replaced by a mutual appreciation for one another. We helped cook dinner over the open fire, took funny selfies with the kids, then all sat together over the meal with homemade rice wine while My translated for us. Their home was simple with little electricity: 3 lightbulbs for the 7 areas in the house plus a few plugs they used to charge their mobile phones. There was a squat toilet on the ground floor and a large storage area "loft" that they set up with thin mattresses and blankets for us. They even busted out their fanciest traditional clothing as they wanted to show me what it was like to wear it.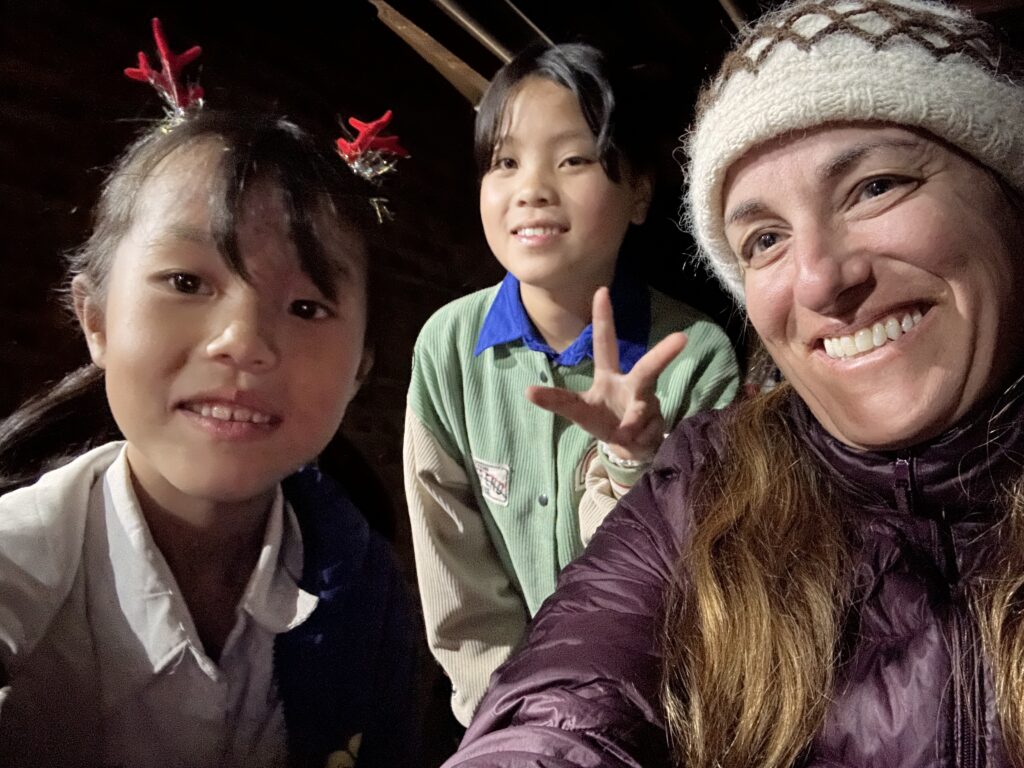 Sapa was my favorite place in Vietnam 22 years ago and it remains my favorite. While it is more built up than before, the fact that we can still travel only a short distance out of town to have these unique cultural experiences makes it a must-visit for anyone visiting Vietnam. Even Josh said, "When I have kids, I definitely want to come back to Sapa if we visit Vietnam". Music to this Mama's ears! And maybe, just maybe, he'll have a few Plan B experiences of his own!
Next stop is Hoi An along the central coast.