Day 2:
Walking through rural, Balinese rice paddies and farmland is pretty great! Doing so with a local is even better! We spent the entire day in Bakas Village, a 700-resident town an hour outside of Ubud with Little Wayan as our guide. His mission? To educate outsiders on life in his village, from farming practices to medicinal plants to the centuries-old traditional dances to how to make offerings of thanks to the gods. He doesn't advertise what he does. Instead, he selectively picks who he works with which determines the type of visitors he gets. He's not looking for hordes of tourists, just people truly interested in experiencing Balinese life first hand which in turn, helps maintain the culture of the village.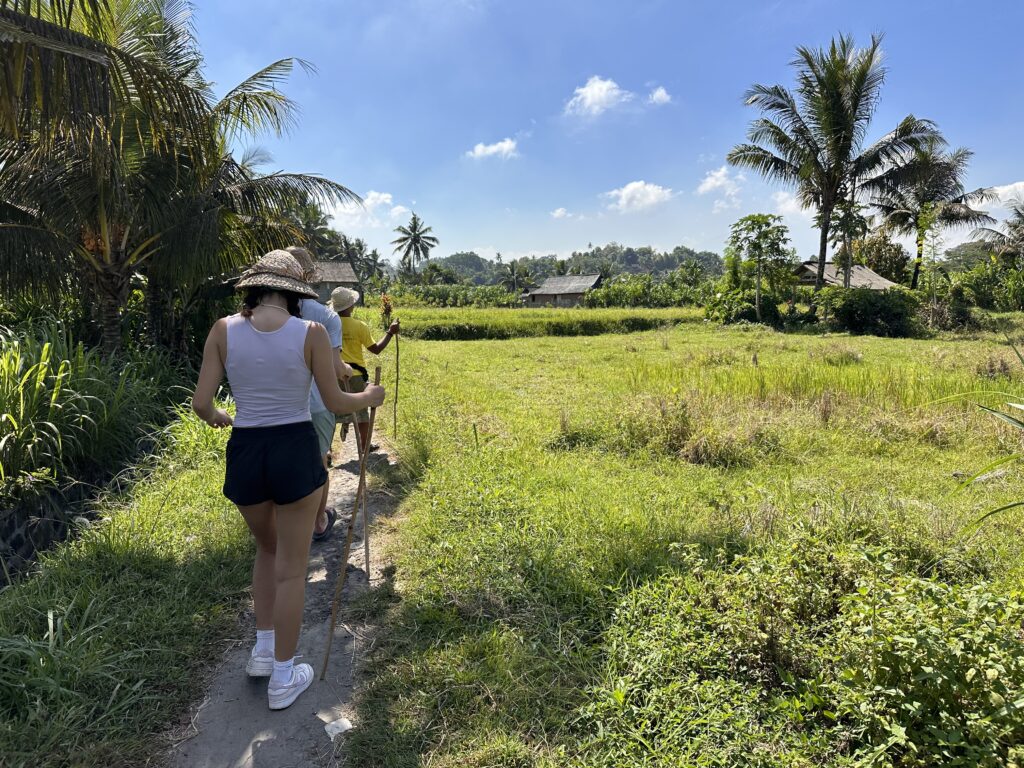 It was a remarkable day getting to know the people of Bakas and letting them show us firsthand how they live. One of the many highlights was playing music with the local kids on a Balinese "gamelan" (a giant multi-part xylophone that takes 20 people to play) and then learning to make the same offerings we've been seeing outside every Balinese home. It was a long day but not seeing one other tourist makes this a must-do activity for anyone who's visiting the area and wants to experience the not so beaten path.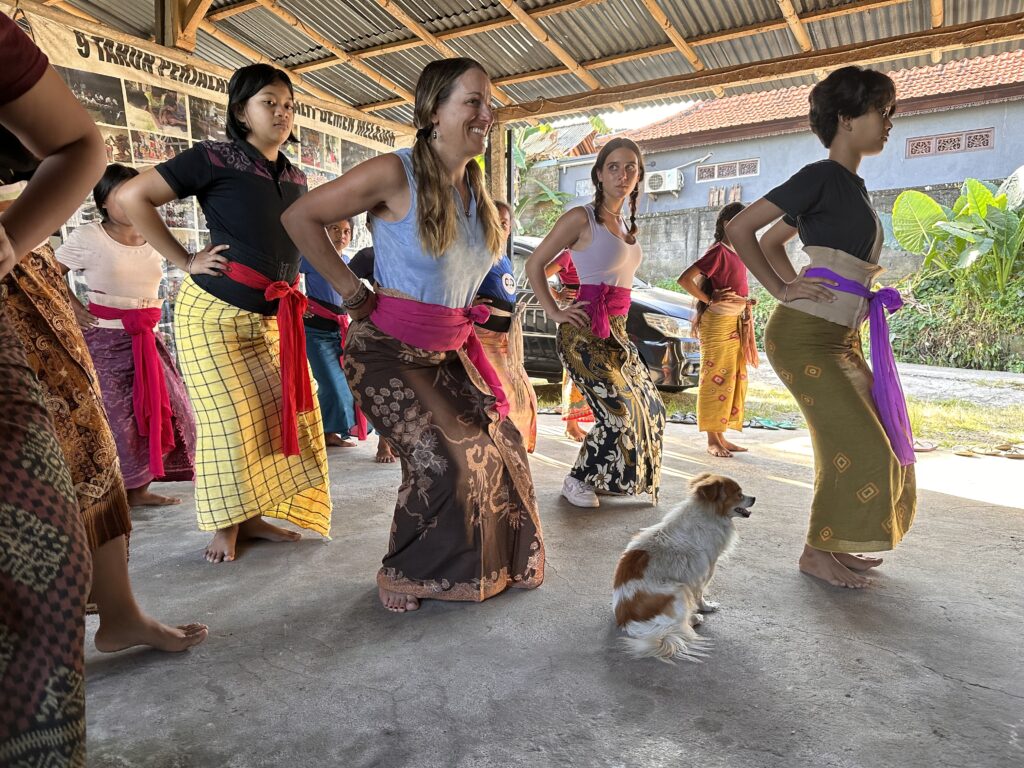 Day 3-
Syd hit a wall… luckily not literally! But there we were, biking in the shadow of Mt. Batur volcano when she tearfully said she couldn't go any further. Fortunately, the van was nearby so the bike was tossed on the back rack, Syd hopped in, and the rest of us continued.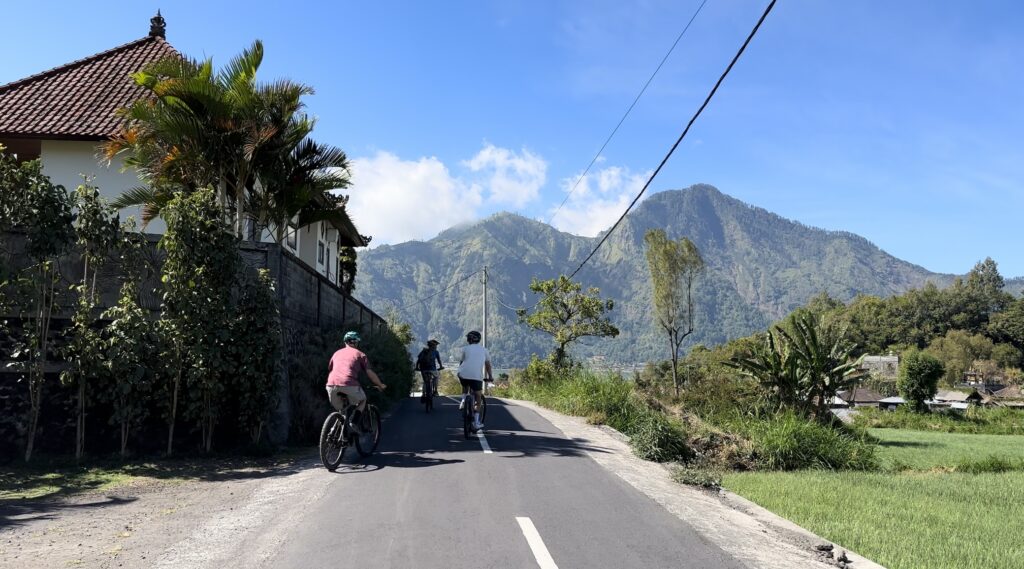 Here's the thing with planning trips…. You never REALLY know how much is too much. I intentionally skipped the sunrise hike up Mt Batur with hundreds of people and opted instead for circling the base of the volcano on foot, bike, and paddle. And while a hike across lava fields, then bike through villages, and a kayak across the crater lake all sounded like a great adventure on paper, in reality, on the heels of our full day yesterday in Bakas Village, it was just too much.
This is not to say we did not enjoy it. For the second day in a row, we did not see one tourist and I just love the villages. As we biked past, roosters crowed, people set out offerings, others manned their shops and stray dogs wandered around. At one point, three old ladies got on one moped, and off they went! We truly saw daily Balinese life going on!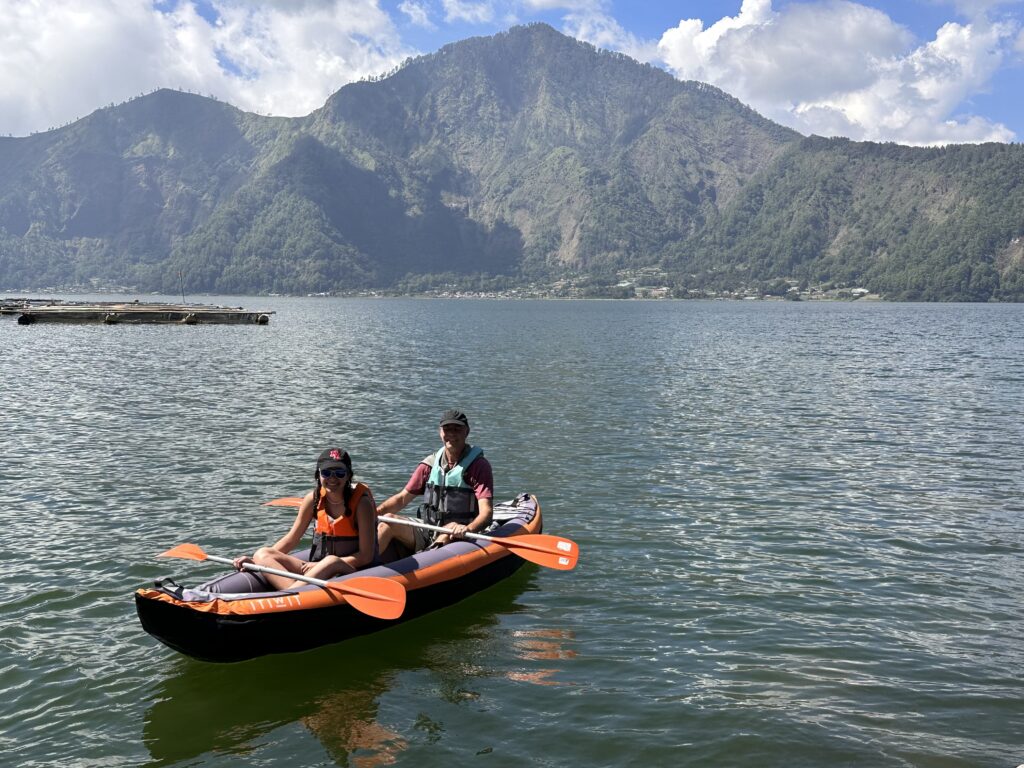 Tomorrow, we head north to the small town of Munduk for three days. Stay tuned!